Whitefish Bay High School
Class Of 1979
ANNOUNCEMENTS
---
May 21, 2019 -- GAME OF THRONES
Game of Thrones is over. You can binge-watch that or Braveheart. I suggest you come to our 40th Reunion! The deadline to REGISTER and PAY is only 30 days away (June 21st). Maybe we can add a face painting booth so everyone can choose blue and grey?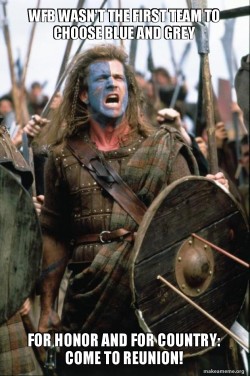 ---
May 11, 2019 -- JOIN US FOR A COLD ONE What ever floats your boat! Sooo many choices...Hofbrau Dunkel Lager, Hofbrau Hefe Weizen and Hofbrau Sommerbier to name a few cold ones that can be found at Estabrook's Biergarten, our Fri., July 5th afternoon venue. I don't think they have Graf's Root Beer, but they do have many non-alcoholic drinks. Check out the video of Estabrook Biergarten courtesy of Doug James. It's on our class Facebook page "Whitefish Bay High School Class of '79".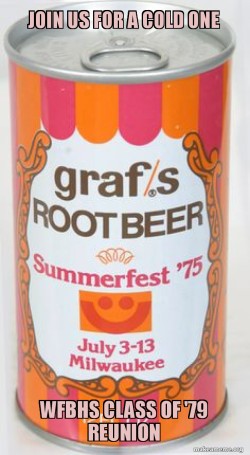 ---
May 5, 2019 -- VENMO ADDED AS PAYMENT OPTION
Pay for your registration at warp speed! Venmo info can be found on REGISTRATION tab.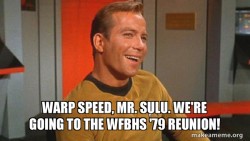 ---
May 3, 2019 -- WEAR A GRASS SKIRT and REGISTER
Get comfy with your classmates and ditch the dresscode. To register go to 40th REUNION 2019 tab, and click on REGISTRATION. Don't forget to complete the SURVEY. A big THANK YOU to the 22 classmates who were the first to register and for the (2) who donated extra!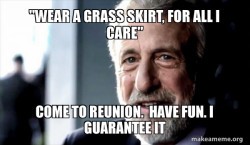 ---
April 25, 2019 -- REGISTRATION PAGE POSTED
Go to 40th REUNION 2019 tab and click on REGISTRATION.
April 25, 2019 -- SURVEY of EVENT ATTENDANCE POSTED
Please take the time to fill out our survey. We'd love to know how many times we will be able to see you over the weekend! Go to 40th REUNION 2019 tab and click on SURVEY.
---
April 23, 2019 -- INVITATION POSTED
Go to 40th REUNION 2019 tab and click on Invitation.
---
April 19, 2019 -- SCHEDULE POSTED
It might be a little early to pack your bags and check the weather...What you can do now is go to 40th REUNION 2019 tab and click on Schedule to get a better feel for what the reunion committee has been working so hard on over the past few months.
---
March 3, 2019 -- DONATIONS / UNDERWRITING
Guy Fiorita announces that Shorewood is raking in the donations for their reunion. C'mon. That just can't be allowed. Click on the Donate / Underwrite tab to see the rest of what Guy has to say. For your convenience, you may add a donation when you register.
---
March 2, 2019 -- HOTEL INFO
Go to 40th REUNION 2019 tab to read all about it. Click on Hotel, etc.
---
March 1, 2019 -- SAVE THE DATE | July 4-6, 2019
Yeah. What THEY say in the video...
---
December 23, 2018 -- HELP UNDERWRITE OUR REUNION
Our first donor is Andy Stillman! Watch Andy's video by clicking on the Donate/Underwrite on the left side of the page.
---
September 26, 2018 -- WELCOME
If you attended our 30th Reunion, it's only been approximately 3,287 days since we gathered for that memorable weekend. Time's a ticking. 2019 will be here before we know it. Which leads me to…
GOOD NEWS - - A reunion committee has been formed and our 40th Reunion is being planned for Thurs., July 4th, Fri., July 5th and Sat., July 6th! More information will be posted on the 40th REUNION 2019 tab...
A big thanks to those classmates who have stepped up and offered to volunteer to help coordinate our weekend festivities. If anyone is interested in helping, just click on the Contact Us tab on the top left of this page and let us know how you would like to help.
While I'm sweeping off the website's cobwebs, for those who have already created a profile, it's time for you to UPDATE YOUR PROFILE. If you've forgotten or misplaced your password, click "FORGOT?" in the login box on the upper right of the home page and follow the prompts. I'll send you an email to reset your password. If you don't hear back from me right away, don't worry. I'll reply as soon as I'm able to do so. Also, please make sure that you're not using any email filtering programs that would block email from noreply@classcreator.net or wfb1979reunion@gmail.com
If you are new to the site, click on Searching for Classmates and follow the instructions.
On behalf of our very lively, engergetic and enthusiastic 40th Reunion Committee, I wish you all the best and hope to see you in 2019!